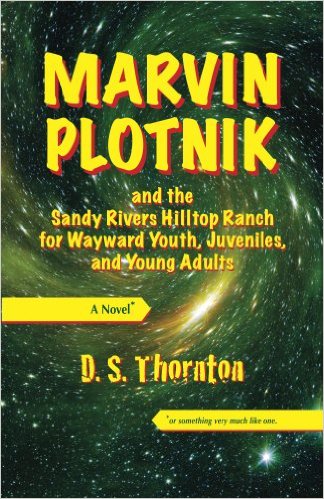 The full title, for those who can't see the cover image: Marvin Plotnik and the Sandy Rivers Hilltop Ranch for Wayward Youth, Juveniles, and Young Adults.
You can probably see what you're getting into, just from that.
I read this book a few years ago, after the author said hello on Twitter (@D_S_Thornton) after I'd posted Marvin The Magnificent on my blog. She seemed to like my story. Whether she'd actually read it was of course not something I could verify…but I got curious, and added her book to my "maybe someday" list. I'm not sure how long it took me to get around to buying and reading the thing–months, at least–but I'm very glad I did. I still think about this one, from time to time, and chuckle.
Okay, here's the thing. I liked Marvin. He reminded me, a bit, of Lois McMaster Bujold's Miles Vorkosigan character. Actively engaged with his environment, you know? Clever, creative, pushy, and fun to follow. And the plot was okay. I'll admit that if you summarized the plot in a few sentences, it might seem sort of trite. But the main thing? The best part of this book? The footnotes!
I've never seen anyone else pull this off so well. This is a work of light, humorous fiction. How in the world did I start looking forward to the footnotes? The hundreds and hundreds of footnotes? Well, let me put it this way. Other reviewers (this book has a total of 5 reviews on Amazon US) have compared the author to Terry Pratchett and Douglas Adams. The author seems to be okay with that, as it says something similar under "Editorial Reviews" on the book's Amazon page. My opinion: it's better than either of those.
Sound ridiculous? How can I say a book currently ranked "#2,229,542 Paid in Kindle Store" is better than anything by Pratchett and Adams? Because I've read it. I don't think many people have, and it's a damn shame. Maybe this one will always have a small audience. Maybe it takes a certain sort of mind to enjoy the thing. But for chrissake. It's hilarious!
Incidentally, I tried posting a review on Amazon a while back…and the 'Zon deleted it. I guess because I'm a competitor, or something. Some sort of cold, alien, wildly inefficient but nevertheless smug machine intelligence decided to help protect the world from my review. You guys feel safer now, right?
I'm going to post this review on Goodreads. Originally I didn't plan to post my reviews anywhere but my blog, but that two-million-plus ranking pisses me off, and I want to do whatever I can to help people find and read this one. So okay, I'll go post my previous reviews over there too. So far that site (though owned by Amazon) doesn't seem to delete reviews by authors.
I see Ms. Thornton has another book out. The ebook version is set at the unfortunate price of $10.99, and it's not linked to Marvin Plotnik via her Amazon author page. I assume there's some sort of story behind that. The newer book is a middle-grade book with a few reviews, and is sitting at the one-million-plus level of Amazon rankings. I have stories in that same range, and it means nobody's bought them for months. A shame.
Anyway, do yourself a favor and go read about Marvin Plotnik. He's a good kid.
And have fun out there!
Fiction total for the day: 1258 words on Project I. I had an unrelated project, but still made progress. Hoping to do better as I go along, but we'll see how it goes.